Supported Software
We support files made in Adobe Illustrator CS6 and Photoshop CS6.
Supported Format
We prefer JPEG/TIFF files. * We try not to take AI, PDF and PSD file because during the file conversion, text or images may shift. In the case of AI, embedded fonts/images may be missing.
Issues Regarding Image Sharpness and Resolution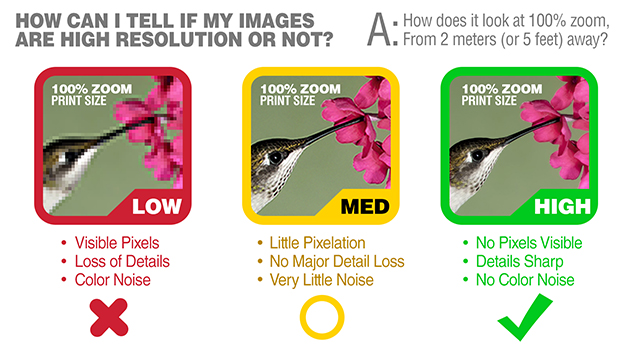 If from 2 meters or 5 feet away, the image appears close to the medium or high resolution range, then it is considered good resolution. We recommend using high resolution images as much as possible to maximize the effectiveness of your display.
What is a vector file?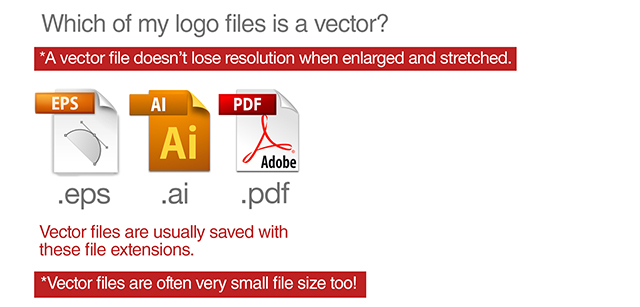 Artwork Preparation
1. For Banner Stand
File size: actual size of the banner (1:1) Color format: CMYK color format Resolution: 150 dpi resolution
2. For Popup Display
File size: actual size of the banner (1:1) Color format: CMYK color format Resolution: 72 dpi resolution
3. Eliminate Gradient effect
We do not recommend the use of any gradient effects on the artworks because transition lines (color bending) will be visible upon closer inspection. If you indeed require the use of a gradient, our recommended acceptance level is measured by eye from about 2 meters (5 feet) away while the image is zoomed 100%. If lines are visible from this distance, consider revising the file. Please contact us for further clarification.
4. Correctness of the artwork
All the artwork will printed based on the proof provided. This proof is for content proofing only. If you need a printed color proof, please read #6 for more information. We are not be responsible for any incorrect content, however we will try our best to pickup on any image issues or any spelling mistakes.
5. Pantone Color Matching
All displays are digitally printed on our state of the art large format digital printer. All Pantone spot colors are converted to 4 color process equivalents [PMS Conversion Chart]. Exact Pantone color matching is not possible using this printing method. If Pantone color matching is critical, please contact us for the closest match PMS code on the actual material. Actual material color chart can be purchase upon request.
6. Color Proof on Actual Material
In large format printing industry, color may vary because of different material being used. If colour matching is critical, please request an actual color proof to be printed on the actual material to be used. Minimum charge of $50 per color proof. The actual cost will be based on the actual material selected. In some cases, please allow 5 to 7 business days for us to produce the full color proof.
7. Reprint – Color Variation
For any reprint project within 3 months after the final product have been produced and shipped, the chances of the color matching are very high. After 3 months, exact color matches will be very difficult to maintain, due to oxidization of the product, raw material may have been manufactured at a different time, and overall temperature change may affect the final print quality. The best solution is to ask for a color proof and a variety of color samples to try to match with the existing product that you have.
Turnaround
For Retractable Banners
Normal Turnaround:
5 Business Days
Rush Orders:
3 Business Days = +$50 per order
2 Business Days = +Minimum $50 per order or $25 per banner
Next/Same Day = +$50 per banner
For Popup Displays:
Normal Turnaround:
5-7 Business Days
Rush Orders:
3 Business Days = +$50 per panel
Next Day = +$100 per banner
*Please call for cutoff time and service availability
How to send over the artwork
Click here
 for the submit files page, from where you will have multiple options to send us your artwork.
Banner Material
13 oz banner material (edges may curl) Decolit 10 oz banner material *NEW* (Perfectly Flat, Vinyl Material and Fire Retardant)
Pickup / Shipping
Order can be picked up at our office, please call to arrange the pickup time. We ship out our product with local/international couriers (UPS / FedEx / DHL / Purolator / etc) and we'll bill the actual freight charges and shipping & handling onto your invoice.
Payment Terms
Initial 50% Deposit and the remaining 50% COD/Before shipout
Payment Method
Company Cheque, VISA / MC / AMEX, Wire Transfer or Cash
Problem with the Print or Hardware
If you find any problem with the print or hardware, you may return the item for exchange or credits. All return inquiries MUST be made within 5 business days upon receiving the product. Sales are final after 5 business days. All replacement print or hardware will be shipped out with regular Ground Service. Faster delivery service may be requested at your expense.